BECOMING A LOVE AND LOGIC PARENT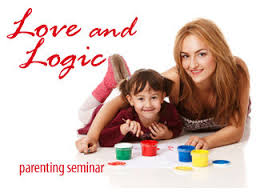 A Seven-Week Parenting Program designed by Love and Logic
This parent training program holds a 30-year track record of success and is designed to help parents get answers to:
How do I get them out of bed in time to catch the school bus?
How can I stop my children from bickering and fighting?
How do I get my children to help with chores without an argument?
Is there a way to discipline my children in public without making a scene?
How can I get my teenage daughter to come home at the agreed-upon time?
How do I get him to stop spitting his peas and whining at dinner?
And many other day-to-day parenting challenges…
This program is designed to give you practical solutions that can be used immediately!
This course instructs parents, educators and others working with children in practical strategies for reducing
behavioral problems, increasing children's motivation and building the tools necessary for maintaining life-long responsibility and resiliency.
Course satisfies court mandated training and Continuing Education Units are available for educators.
Go to the calendar to find a meeting near you.